Isabella MacAskill, the third eldest child of nine belonging to Donald  (Domhnull Og Dhomhnuill a' Phiobair) and Peggy MacAskill (Peigi Ruadh MacLennan)was born at the Buaile Ghlas, opposite 32 Gravir in 1885.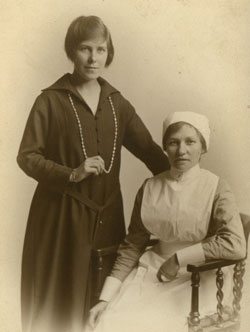 As a young woman she emigrated to Canada and worked as a cook in Winnipeg, Manitoba. She saved her earnings and when she returned to Scotland she qualified as a mid-wife in 1923 and had enough savings put aside to enable her to enter The Cottage Nurses Training Home in Govan for training as a district nurse and mid-wife. She completed her training in 1928.  In those days nurses had to pay for their own training and support themselves during the three year course leading to qualification.
The Duchess of Montrose was President of the Training Home and a friendship developed between the two women which helped Isabella secure a number of private nursing posts. Nurse MacAskill's niece, Morag Matheson has sent us a number of friendly, affectionate letters which the Duchess had written from Buchanan Castle, Drymen, Glasgow  to her aunt arranging for her to be picked up by her chauffeur driven carriage for various outings and visits. Indeed on one occasion she enclosed a ten shilling note as a gift to her.
A letter dated June 23rd. 1929 reads:-
"Dear Nurse MacAskill, I should be glad just to see you, as you were resting when I called yesterday afternoon. I shall be sending our Motor tomorrow morning to Killearn Station and on its way back passing Drymen Station I will tell the chauffeur to stop at Mrs MacKie's door and call for you. Then if you come up here in the motor to see me you could afterwards walk back to Drymen Station. The Motor will call for you at 11.15.     Signed –
The Duchess of Montrose
"
Returning to her native village in the thirties, Isabella became widely known throughout the Isle of Lewis as Relief District Nurse. A thrifty lady she also sent money to her father which helped him to buy the croft at number nine, Gravir and build a new family home on the croft.
Morag remembers her aunt as a remarkable and determined woman of her time and says that the entire family treated her with awe and respect. She died in 1970
Posted by
cepaircadmin
| 0

comments