Caversta
---
The village of Caverstay is located on the south side of Loch Erisort, just across Tob Caverstay from the somewhat larger village of Garyvard. It consisted of just four crofts, though the neighbouring hamlet of Torostay was considered an extension of Caversta so the two crofts there became numbers 5 and 6.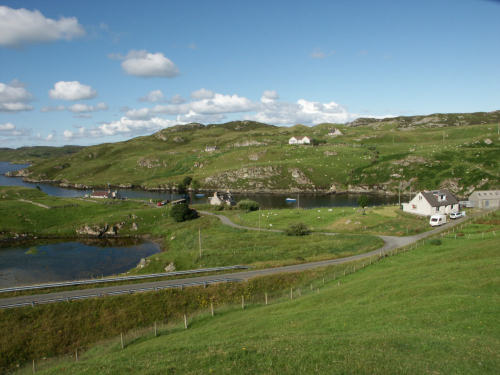 The village was once part of Crobeg farm and several of the first (recent) inhabitants came to work as shepherds in the 1840s, before the crofts were lotted. As populations grew, Caverstay suffered from lack of land as throughout the district. The population peaked at 78 in 1881 despite still only having the six crofts, including Torostay.
Caversta children went to school in Kershader.
Around 1900 the village was very much Mackinnon territory; see the memoirs of Ruaraidh Rob Mackinnon for an account of life in the village.
Booklet available.
Caversta genealogy on Hebridean Connections.