Stiomreway
---
Stiomreway is a substantial village on Loch Shell, long deserted, on the east side of Tob Stiomrabhaigh. It benefits from a beautiful setting and good inshore fishing.
The nearby villages of Lemreway and Orinsay were cleared in 1843 to make room for "the tide of sheep" at Park Farm, under the tenancy of Walter Scott. Stiomreway was not cleared at the time, but was an isolated village inside the boundaries of the farm.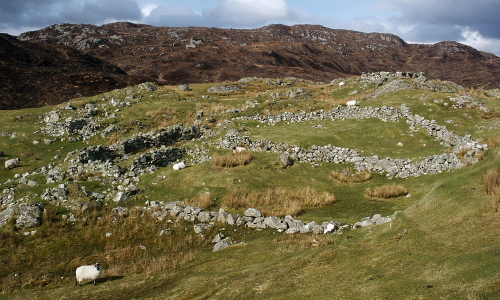 In 1857 the farm changed hands at the crofters at Stiomreway gave up their leases to settled at the deserted village of Lemreway. Some 20 families left Steimreway and took up 17 crofts at Lemreway; the remaining 14 were occupied by people from other parts of Pairc. The expansion of the farm to Stiomreway was the last such wave of sheep. When the farm became a deer park in 1886, Stiomreway and Orinsay were given to Roderick Martin, farmer at Crobeg, for grazing.
The village was, like Orinsay, schedule for resettlement under the Small Holders' (Scotland) Act of 1911, but the Great War intervened. After the war, the new proprietor, Leverhulme, resisted the relotting of Stiomreway and other farms. Landless cottars, many returned from service overseas, prepared to raid the park. Leverhulme eventually withdrew his opposition and plans were made to resettle the village in 1922.
Five Calbost families were among those planning to move to Stiomreway but an accident at sea, while building materials were transported to Loch Shell, resulted in the death of two young settlers and all but one of the five families withdrew; only Donald Morrison, 9 Calbost, persisted. Four families from Lemreway also settled. These settlers were consider raiders, never recognised as crofters, and not in receipt of the usual financial assistance. Neither was there a road or footpath built to the village, and the school was four miles away at Lemreway.
The settlement lasted barely 20 years. By 1939 only the Morrisons and Carmichaels were left in Stiomreway; Donald Morrison, widowed during the war, was the last to leave.
Booklet available.
Stiomreway genealogy on Hebridean Connections.
View Larger Map