Orinsay
---
The name Orinsay derives from the Norse for 'ebb-flow island'. When it was first settled is unknown, but the situation is sheltered, with both arable land and good fishing to hand. In 1810, a Mary Maciver (to whom the land had evidently been let) wrote that the 'place is considerably infested with ravens' which were interfering with the tenants' fish and barley. The township was described in 1830 by Rev John Mackintosh as 'very destitute', though 'not as bad as Kershader'.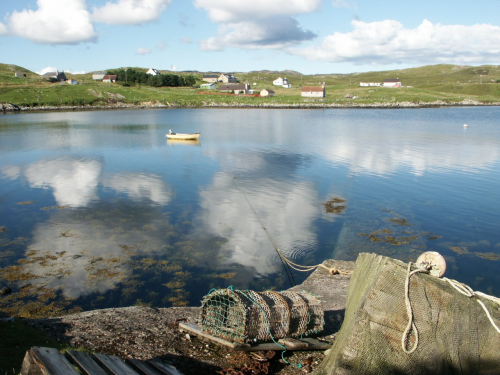 Orinsay was cleared in 1843, and despite raids in 1891, not resettled until 1922-3. In the interval it was run as a sheep farm and then a deer park, under the tenancy of Walter Scott of Hawick, then Michael Scobie, then PP Sellar (son of Patrick Sellar of Sutherland) and then Roderick Martin of Crobeg. In 1843 many of the evicted tenants went to Crossbost, settling at crofts 4, 6, 8, 15, 16, 19, 21, 22, 24 and 25. Fishing always sustained the village though the natural harbour at Lemreway, being deeper than at Orinsay, was the base for the larger boats. There were two Inns – the Loch Shell Inn and the Sailors Inn – and two shops, one at 13 Orinsay (Calum Martin) and the other at 4 Orinsay (Kenneth Macmillan) which also boasted the first telephone in the village. Seven men of Orinsay were lost at sea in 1945. Orinsay's most famous son was Calum Kennedy, the Gaelic singer (1928-2006). Booklet available.
Orinsay genealogy
on Hebridean Connections.
View Larger Map