Lemreway and the Puffin Hunt, 1958
by Donald Mackay, Kershader, in 1958-59
Lemreway was one of the villages affected by the Park clearances. It was resettled in 1861 when those who were removed from Brollum to Stiemreway were in that year removed to Lemreway on the outskirts of the Park sheep farm. None of those who had originally been evicted from Lemreway in 1841 returned to it in 1861 except one man, a Macaulay from Crossbost. There are no Macaulays in Lemreway today but certain Nicolsons are descendants of the Macaulay mentioned. The population of the village is 150 persons normally at home and of those there are only four males between the ages of 18 and 30 years.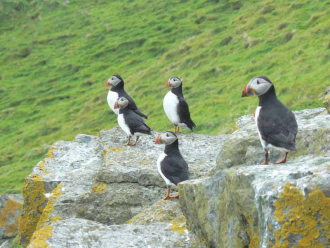 At one time the inhabitants of Lemreway and other neighbouring villages made visits to the Shiant Isles for puffins. The grounds of the Shiants is pockmarked with holes, the nesting place of the puffins, and the villagers used to bring home boatloads of dead birds which were valued for their feathers. They also enjoyed big pots of boiled puffins as a welcome change from their usual fish diet.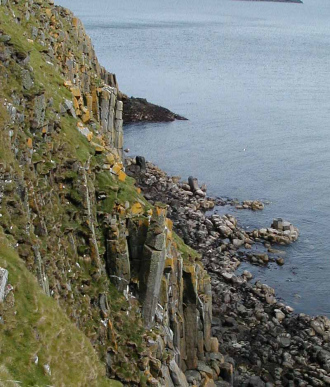 A day was chosen when there was a strong breeze blowing against the steep braes where the puffins nest and breed. The young men lay down on their backs on these slopes, holding up by the butts fishing rod lines of 9 or 10 foot in length. Holding them with both hands they whacked the puffins as they flew past them, quite low, in their hundreds. Whether the puffin was killed outright or merely stunned, it rolled down the steep slope to the shore or to the sea, and the rest of the crew were kept busy gathering bodies into the boat. The spreading of a herring net over the nesting ground was another method used. This custom has not been engaged in now for many a year.
There are a total of 46 houses (thatched 10, two rooms 2, three rooms 4, four rooms 23, five or more rooms 7.) One house has been built by government grant since 1918.  The school is attended by Lemreway and Orinsay children. There is a headmaster and one female assistant. The number on the roll is 35. In 1914 the number was 84. The West Coast Mission established a mission station in Lemreway shortly after 1900, and in 1938 the station was taken over by the Free Church, to which all the villagers belong.
Posted by
cepaircadmin
| 0

comments