MacRath Mòr in Caversta
Caversta's claim to fame centres round the Rev John Macrae, minister of Lochs from 1857-1866.
MacRath Mòr, 'Big Macrae', who was a physical and spiritual giant was a household name in Scotland in the latter half of the nineteenth century , having ministered at Cross (1833), Knockbain (1839), Greenock (1849), Lochs (1857) and Carloway (1866) before retiring to Stornoway in 1871 where he preached regularly after his retirement.
Lochs (Crossbost) at that time was a congregation of around 5000 people. There were no Free Church buildings at Kinloch or Pairc in these days and with roads being few and far between in what was a large and widely dispersed area. It was with this in mind that the people of Snizort in Skye presented Macrath Mór with a yacht, The Wild Duck which was sailed to Lewis by his good friend Rev Roderick Macleod of Snizort.
This is where Caversta comes to the fore. Because of its central location 'Gob Chabharstaigh' became a meeting place and whenever Rev Macrae was to preach there, people came by boat from Kinloch, North Lochs, Cromore and Marvig while those from Gravir, Lemreway and Orinsay came on foot.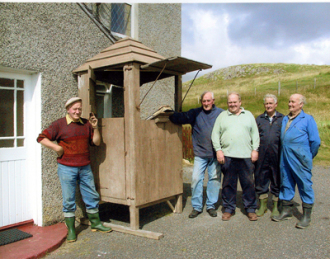 It is very likely that the 'tent' or portable pulpit, at present in the museum at Gravir was used there and there is part of a wall at number 3 in an area known as '
Tobair na Tent
'.
Macrath Mór's
wife was Penelope Mackenzie, daughter of Captain Thomas Mackenzie, tacksman at Bayble. She is buried in
Eilean Chalum Chille
where the inscription on her gravestone is still legible but Macrae himself was buried at Greenock.
Posted by
cepaircadmin
| 0

comments