Rockfishing in Calbost
Written by Iain Sheonaidh Alasdair (John A. MacKenzie), Calbost. Photo by Iain MacArthur.
Rock fishing loomed large in our childhood and teenage years in the long summer and early autumn weeks that seemed to last forever.
Growing up in Calbost in the 1940s and 1950s, we got to know intimately the rocks and perches stretching north and north-west from the mouth of Loch Odhairn to Mol a' Gho.
The catch depended on a good bit more than chance. The state of the tide, the time of year, the set of the wind were all factors to be weighed in the balance. Also, the kind of fish one optimistically hoped to catch was another consideration in deciding the rock to try on a particular evening.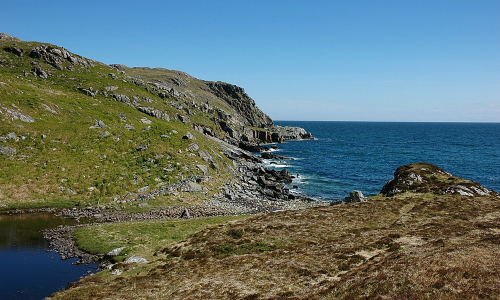 Some of the rocks were relatively easy to get to, others were not. You could more or less walk onto the Creag Ruadh (just north of Mol an Eich) but to get onto the Corran (the northern point of Bagh Mor an Eich) was a different kettle of fish altogether.
As you descended to the Corran, you had to negotiate a steep slope, overlooking a fearsome, vertical drop of many metres into the sea, made slippery and treacherous by grass and loose stones. To pause mid-way down to look at the boiling sea below was not recommended. Once safely down, however, the fishing was often first-class. It was one of our great favourites for large lythe.
The tackle we used was, by modern standards, primitive but surprisingly effective. A bamboo rod (from Buth Thearlaich – Charlie Morrison's) of 12-15 feet long, strong twine, nylon weed, swivels and either a haddock hook for fish like saithe or a much larger one for lythe. Bait was either par-boiled limpets or strips of mackerel or herring. Although the mackerel is more or less as oily as the herring for some strange reason, fish preferred herring.
We caught a variety of fish of differing sizes. Depending on size, each might have its own name. For instance, the various growth stages of the saithe ranged from sprat to the very large coal fish. If memory serves me well, the following are the stages of growth of the saithe family:
siol – sprat
cudaig – cuddy
smalag – saithe (in its second and third year)
saoidhean – mature saithe
saoidhean dubh – coal fish
nucas – very large coal fish.
Other fish we caught were various sizes of lythe (liugh) and ballan-wrasse (muc-creige). The ballan-wrasse, though full of barbs and bones, made excellent fish soup. They were dwellers among the rocks, the nooks, the crannies, the seaweed and bottom feeders. The nearer you could get to them- short of falling into the sea – the better your chances of catching them.
One of the great memories of my childhood rock fishing is the evening I caught a hugh "gad" (catch) of ballan-wrasse on Creag an Toill, a promonotory on the south side of Calbost bay, mid way between Geodha an Duilisg and Stac nan Sgarbh. I hadn't progressed to the sophisticated bamboo and my "rod" was a gnarled and twisted tree branch and my companions that evening were Kenny, Alasdair Mearag, Aonghas Cheannaidh and Ruairidh Gladaidh. Many a jibe I endured. However, as the saying goes "He who laughs last, laughs longest" and so it proved that night. My trusty Harry Lauder staff out-fished them all.
For lythe, my own favourite haunt was Geodha na Luinge, just in from Stac nan Sgarbh at the southern tip of Tob Chalaboist. Once again, I will have to cast modesty aside and stake a claim for landing the largest lythe I have ever seen hooked from a rock. It was fully a metre long and with a girth to match. The bait was fresh herring. It was a perfect July evening in 1956 with a slow, oily, gentle surge on a rising tide and the sun dipping into the west. As I recall, the fishing had been good and we were just about ready to pack up and head for home. I decided to try one last fresh strip of herring.
I can still see her moving lazily out of the greenish depths just underneath the overhanging ledge I was standing on. Even allowing for the magnification of the water, I could see she was big. She followed as I eased the bait gently along. She came up to the herring, nosed it and sprang.
I can still feel the heart-stopping excitement as the bait disappeared and she dived for her lair under the seaweed. A quick jerk of the tip of the bamboo and she was well and truly hooked. Into the sea, the bamboo arched time and again before she finally gave up.
We were nothing if not inventive and enterprising. One summer, Alasdair Mearag returned from a sojourn in Point with white fishing flies. They were deadly saithe killers but unfortunately, they got easily snared in the bottom and in the seaweed. We soon lost them all. Stornoway and further supplies of ready-made flies were far away. However, we had plenty of hooks. The problem was what to use as a white lure.
As it turned out, raw material was readily to hand. At that time, Kenny had a thatch of pure white hair and Alasdair's grandmother's dog, Moss, had a large snow-white collar. In no time at all, Kenny's head took on the appearance of someone suffering an acute attack of alopecia and Moss looked as though he had developed severe mange. For a short while, the fishing was wonderful but it wasn't to last. Mairi Ailean put the damper on further prunings from Kenny and Bantrach Choinnich Dubh was somewhat less than amused when she saw the ravished state of Moss's collar!
For those readers who were once familiar with the names and locations of the rocks and other features of the coastline from Loch Odhairn to Mol a' Gho, I will name as many as I can remember. Imagine that we are beginning our trek at the mouth of Loch Odhairn and moving north along the shore. From Creag Fhraoich, a very rough and leathery scramble will take us to Mol an Eich. Pause a moment to refresh our thirst at the natural spring that oozes from the cliff above the voe (geo) between the Mol and Creagan Ruadh. Stroll along the cliff tops to Stac an Fhir Mhaoil and raise your eyes to the outline of the life-like outcrop of Ceann an Eich round by An Corran and along to Uinshear – probably the greatest depth of sea along this stretch of the coast – and so to Gob Leac Mhor where the water is shallow and hooks easily snagged onto Gormaig nestling in the bay, an excellent spot for saithe and lythe. We must take care along the stretch of coast to Gob Leac Bheag, a user-friendly rock easy to get onto, and a good fisher. From these, an arduous climb and scramble among heather, rocks and bracken to Creag Dhonnachaidh and close by Stac Nan Sgarbh. By now we have opened out Tob Chalaboist and are traversing dangerous land to Geodha na Luinge.
Our legs are about gone; however, there is some way to go yet, so we'll try the next half mile, or so, at a brisk trot. Past Creag an Uillt and An Carraig Buidhe, Carn Toll and Creag an Toill. Round the corner smartly to Creagan Alasdair Aonghas, past A Chreag Ghlas and safely to Geodha an Duilisg. Pause for breath. Puffing and panting, we steak past An Lamrig, crunch through the rough shingle of An Clachan, through ferns and shoulder-high bracken (watch out for snakes!) to Leac Nam Buidhigean and so to "Creag Ruadh". The end is nigh! As we top the rise, the glorious vista of Mol a Gho unfolds. Truly a paradise without a coconut bar or a bikini in sight.
Mention earlier of Mairi Ailean and Seonag Iain, reminds me of older rock fishers of the time and their favourite spots. Murchadh Goil favoured Gormaig and Gob Leac Mhor while his brother, Angus (Dairigh), was a frequenter of An Carraig Buidhe. Rob Iain 'an Choinnich would often choose Creag Dhonnachaidh and Domhnull Alasdair Mhurchaidh would stroll down of an autumn evening to the Creag Ruadh and Elean a' Gho.
They are all – and many more – long gone but the rocks remain and endure.
Rock fishing was at once a pass-time, a means of providing fresh, sustaining fish, a setting for discussion, banter and fellowship and an activity that was intricately woven into the complex fabric of our Community.
Posted by
cepaircadmin
| 0

comments