Hudson plane crash site photographs
A few months ago we published an article on the Hudson bomber which crashed at Mulhagery in Southern Pairc and received the note below from Dave Earl.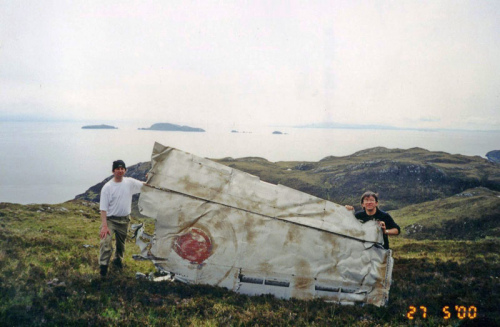 'Nice article on the Hudson. I am an aviation historian/author living E of Manchester and have for a number of years been researching losses of aircraft around the Scottish Islands for a book project. With permission of the Estate manager Chris McCrae I visited the site of the Hudson in May 2000. I also visted the graves of Rigby & Hancock in Stornoway to pay my respects. Oddly the 1180 accident card on this aircraft was never updated and it is still listed as missing. During research I am always seeking family members to try and obtain a little on a crew members background and any photos of them if available, I note that Roger Hancock left a note here and I would most welcome any correspondance with him, if you could please pass on my e-mail address I would be most grateful. He is of course most welcome to anything I have gathered in my file over the years. Many thanks Donnie once again for writing this article, it is important that we remember the sacrifices these men made for us all. Kind Regards. David W.Earl.'
Dave has now kindly sent us some photographs taken on the site when he visted with his colleague D Ramsay in May 2000.
Posted by
cepaircadmin
| 0

comments